Husky experiences in Swedish Lapland
. . . the natural paradise in northern Sweden with its light birch forests, sparkling lakes, gentle hills and rugged charm.
Three times a year we set up our base camp here in the hilly plateau around Åsele – for hiking tours in midsummer and autumn and dog sledding tours in winter.
Our traditional Swedish house on the Ångermanälven offers all the amenities you would want after extensive outdoor activities: shower, lovingly furnished rooms, cozy kitchen with sitting area to enjoy, a comfortable living room to read and relax and a barrel sauna in the garden right by the lake...
The enclosure for the dogs is right next to the house and gives the opportunity to have contact with the animals at any time, to help with the care of the huskies and to distribute petting.
Huskyfarm active holiday in winter in Gafsele / Södra Lapland
With Siberian huskies through Lapland's white wilderness on the banks of the Ångermanälven!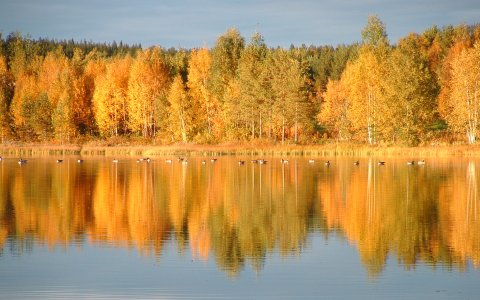 Huskyfarm-Aktivurlaub in Schwedisch Lappland
Weiße Nächte im Mittsommer und Farbenrausch zur Ruskazeit!
Our husky farm is certified by the ServiceQualität Deutschland initiative
Companies that have taken part in this certification and bear the Q have dealt intensively with the issues of service and quality and are working on continuous improvement. This is what the Q stands for - a sign for you as our guests that the people in this company are interested in your satisfaction and are doing something for you!