Experiences for children & families
Kids & teens meet huskies! Animally exciting adventure days, family trips and an extraordinary children's birthday party
Animals – and especially dogs – exert a special attraction on children and adolescents. So what is more obvious to promote and use this often existing natural connection? Give your child the special experience that combines nature and adventure with the company of other children and especially dogs! Playfully and unforced, they learn how to handle animals responsibly – and by the way, they get plenty of exercise in the fresh air and have a lot of fun!
The experiences listed at the bottom of the page (see "Our offers in this section") are part of our children / youth & family program. These offers include special prices for children and young people. Appointments are available especially on weekends, school-free days and during holiday periods.
In addition, children and teenagers with or without parents can also take part in our dog sledding courses. In order to allow you to make an age-appropriate selection, we give you some initial tips on suitability:
for children from 8 years accompanied by an adult +++ Dog Sled Course Björksele +++ Take part in a dog sled ride – the wish of many animal lovers! This is where it can come true! +++ Participation as a passenger in the car of an experienced guide
for teenagers from 14 years: Dog sledding course Hälla +++ Siberian huskies have a very special attraction for many people. Once lead a team of these powerful dogs – the wish of many animal lovers! We will be happy to show you how to do it in this course! +++ Participants steer their own team
for teenagers from 14 years, also with younger siblings and parents: dog sledding course Kebbestjärn +++ The complete husky package for families from 3 participants: guide dog training, dog slidding course, with huskies on the spot! +++ Participants drive their own team, combination with passenger ride possible +++ dates for this course on request and by individual arrangement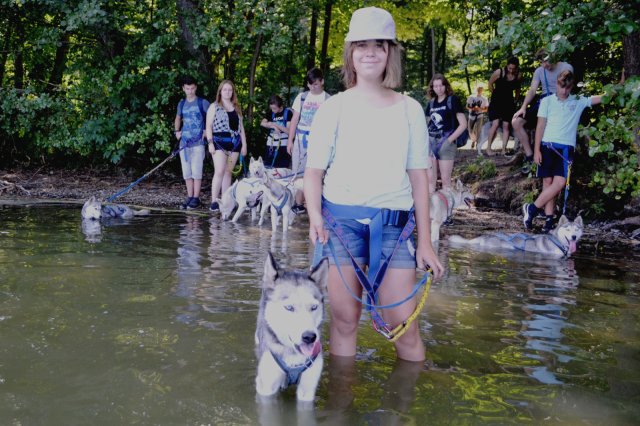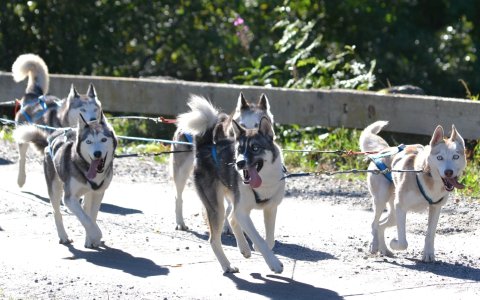 Hundeschlitten-Kurs "Valvatten"
Der Fokus diese Kurses liegt auf der Tour selbst: dem aufregenden Start des Gespannes, der flotten Fahrt durch die umliegenden Wälder und der Zusammenarbeit der Hunde im größeren Team. (Teilnahme als Passagier, Gespann mit ca. 10 Hunden, Fahrt ca. 20 min.)
Mushing course "Björksele"
Take part in a sled dog ride – the wish of many animal lovers! This is where it can come true! (Participation as a passenger, also as a voucher)
Husky family hike
A whole pack of lasting impressions for young and old!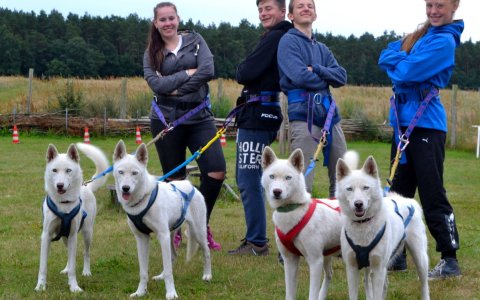 Husky Hiking Trip "Tour-Of-Three-Forests" light
On this tour, we will discover the secret spots of the Frankendorf forests. Look forward to the company of a Husky and be surprised by the destination of the day!
Tour of the Husky farm with walk in the forest– exclusively for you and your family or friends
For all curious people who like to look, wonder and stroke, but also want to go for a walk with a husky
Our husky farm is certified by the ServiceQualität Deutschland initiative
Companies that have taken part in this certification and bear the Q have dealt intensively with the issues of service and quality and are working on continuous improvement. This is what the Q stands for - a sign for you as our guests that the people in this company are interested in your satisfaction and are doing something for you!