Hiking with Siberian Huskies
Do you enjoy hiking and try something new? Then hike with huskies!
With the trained four-legged guests, you get a real boost and set a sporting pace.
Depending on physique and condition, the appropriate dog is selected for each participant. Possibly. "Huskies" means "3-man teams" (2 hikers will bring together a strong dog), you will be amazed at how willing the Huskies are to enter their new hiker, wait for commandos, and of course also to praise and strokes To learn a dog's language and then to become a team with the animal for the time of the hike. Each participant will receive an instruction in the hiking technique and a special waistbelt to which the harness of the Huskys is attached - so you always have the Hands free!
A great experience also for families with larger children. For guests with younger children, we offer family hikes, which the youngest can join, if they want to sit in our hiking cart. Families with teenagers aged 12 and over can also take part in the larger hiking tours, where each participant takes his own husky.
Let yourself be spoiled by the joie de vivre of the Huskies and be inspired for hiking!
Husky family hike
A whole pack of lasting impressions for young and old!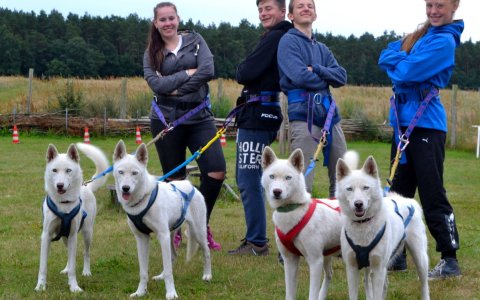 Husky Hiking Trip "Tour-Of-Three-Forests" light
On this tour, we will discover the secret spots of the Frankendorf forests. Look forward to the company of a Husky and be surprised by the destination of the day!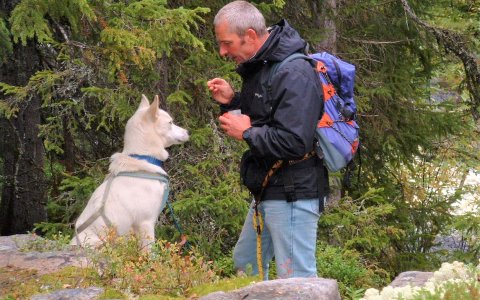 ** Premium Hiking Trip "Tour Of Three Forests"**
The Premium version of this tour also includes: double hiking tour & dates in the most popular hiking months (September to May)!
Hike of Lights on Advent
Husky howling, candlelight and the smell of warm apple punch - the hike of lights combines outdoor fun and the feeling of christmas markets!
Our husky farm is certified by the ServiceQualität Deutschland initiative
Companies that have taken part in this certification and bear the Q have dealt intensively with the issues of service and quality and are working on continuous improvement. This is what the Q stands for - a sign for you as our guests that the people in this company are interested in your satisfaction and are doing something for you!