Husky farm tours
Exciting facts, interesting anecdotes and huskies to touch!
Go on a lively tour through the world of sled dogs with one of our mushers (sled dog handlers)! Look forward to exclusive insights into the everyday life of a husky pack and learn a lot about the history, keeping and employment opportunities of these fascinating dogs.
Our tours are also possible in English.
Tour of the Husky farm
For all curious people who like to look, wonder and stroke ...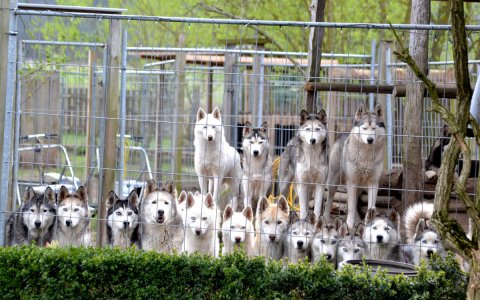 Einstündige Huskyfarm-Führung für (Bus-)Reisegruppen
Für alle Neugierigen, die mal schauen, staunen und streicheln möchten...
Tour of the Husky farm with walk in the forest– exclusively for you and your family or friends
For all curious people who like to look, wonder and stroke, but also want to go for a walk with a husky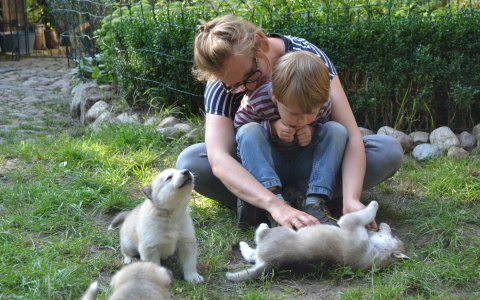 A Siberian Husky to move in
The beautiful sled dogs are great family animals: cuddly, but also very active and sporty. Before buying your dog, please contact us to find out about breed-typical characteristics, husbandry conditions as well as training and employment requirements.
Our husky farm is certified by the ServiceQualität Deutschland initiative
Companies that have taken part in this certification and bear the Q have dealt intensively with the issues of service and quality and are working on continuous improvement. This is what the Q stands for - a sign for you as our guests that the people in this company are interested in your satisfaction and are doing something for you!