Husky farm tours
Tour of the Husky farm - exclusively for you and your family or friends
For all curious people who like to look, wonder and stroke ...
Have you ever looked a Husky directly in the eyes or went "dipping into his fur? How does a big pack of Huskies live together? And how do you drive a dog team? Can you keep a Husky in the house and how does it feel with its thick fur during warm summers?
During a visit on the Frankendorf Husky farm, you will experience Huskies up close and have the chance to ask our Mushers (drivers of dog teams) everything you have always wanted to know about sled dogs.
The guided tour is offered exclusively for you and your family / friends.
Duration: 45 minutes
Participants: max. 5 (more participants on request)
from € 78.-
Next events
Sun, 22. May 22

14:45 bis 15:30 Uhr
Good to know
PREISE

Gruppe bis 5 Teilnehmer 78 €

HINWEISE

* COVID-19: ab dem 03.12.21 alle Veranstaltungen nur unter 2G-Bedingungen

* Kinder, die während der Veranstaltung im Kinderwagen bleiben zählen nicht zu den Teilnehmern.
* Einige Termine stehen online zur Verfügung, weitere Termine gern auf telefonische Anfrage.
Ort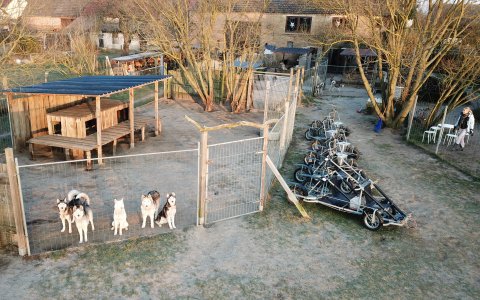 Freizeit- und Tourismusservice Sabine Kühn & Elmar Fust
Freizeit- und Tourismusservice Sabine Kühn & Elmar Fust
Neudorf 34
16818 Storbeck-Frankendorf
Our husky farm is certified by the ServiceQualität Deutschland initiative
Companies that have taken part in this certification and bear the Q have dealt intensively with the issues of service and quality and are working on continuous improvement. This is what the Q stands for - a sign for you as our guests that the people in this company are interested in your satisfaction and are doing something for you!