Hiking with Siberian Huskies
** Premium Hiking Trip "Tour Of Three Forests"**
The Premium version of this tour also includes: double hiking tour & dates in the most popular hiking months (September to May)!
As always, arriving guests are closely watched by our more than 20 Huskies.
After the introduction – "a short study of sled dogs" – next to the kennel, the Huskies are released into the enclosure and together with the participants, we pick out a suitable four-legged hiking partner for each participant. Excitingly howling dogs are now awaiting the Go!
Which place will the Huskies lead us to, today? The small pond Bergsoll, the Blind Donkey, the Egg Soup valley? Frankendorf's forests provide several opportunities and depending on the season and weather, we will choose a destination. During the first stretch, hiker and dog will find their own pace and the dogs will walk more calmly and focused - perfect conditions to form a personal bond. Halfway through, we will take a break. You can take a snack you brought with yourself and enjoy the peace and quiet of your surroundings. On the way back, the dogs' exuberance will have settled and the now well attuned teams will return home with a measured step.
We will conclude the event together and exchange some of the days' experiences.
**** Premium Husky hiking trip "Tour-Of-Three-Forests"- details
Additional services
double walking time (ca. 2.5 hours)
Dates in the most popular hiking months
Duration - about 3.5 hours, depending on the route
Group size - 10 - 14 participants, no minimum number of participants (implementation guarantee)
Dates - September to May
Activities: hiking trip (10-21 km) tour, one dog per person
Conditions - normal mobility, suitable for hiking beginners, for participants from 12 years
Recommended clothing - weatherproof outdoor clothing (rain jacket/pants if necessary), trekking shoes or similar, full-fingered gloves, headgear
It is possible to buy or rent rain gear / rubber boots on site.
Recommendation: Please bring plenty of refreshments (recommended 0. 5 to 1 litre) – especially for hiking in summer.
Please note: Participating in this hiking trip without a Husky is not possible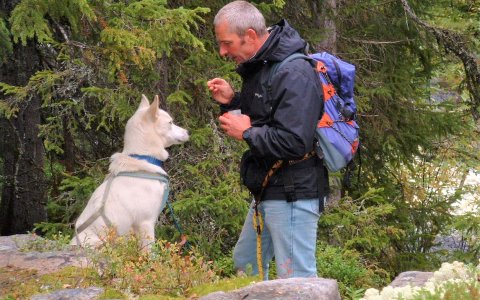 from € 128.-
Good to know
PREISE

Teilnehmer ab 18 Jahre 128 €
Teilnehmer 12 - 17 Jahre 98 €

HINWEISE

* Jeder Teilnehmer führt einen eigenen Husky.
* Bei unseren Wanderangeboten ist die Teilnahme von Begleitpersonen (Zuschauern oder Wanderern ohne Husky) nicht möglich.
Ort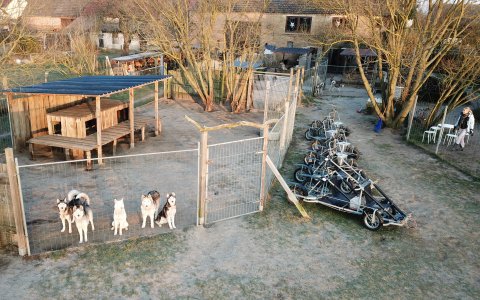 Freizeit- und Tourismusservice Sabine Kühn & Elmar Fust
Freizeit- und Tourismusservice Sabine Kühn & Elmar Fust
Neudorf 34
16818 Storbeck-Frankendorf
Our husky farm is certified by the ServiceQualität Deutschland initiative
Companies that have taken part in this certification and bear the Q have dealt intensively with the issues of service and quality and are working on continuous improvement. This is what the Q stands for - a sign for you as our guests that the people in this company are interested in your satisfaction and are doing something for you!