erlebnis Huskies barrier-free in Germany & Sweden
Mushing course "Hälla"
The four-season course with great variety of dates (participants steer their team themselves, also as a voucher)
Siberian Huskies exert a special attraction on many people. Friendly and good-natured with bipeds, but also lively and excitedly barking when waiting to start a sled or all-terrain-vehicle tour - Huskies are versatile! To drive a Husky team by yourself – a wish many dog lovers have! In this half-day course, we will show you how.
All participants will complete a basic course in mushing, the art of driving Huskies with a sled or all-terrain-vehicle (ATV).
We begin by introducing the dog breed and our pack. You can watch them in the kennel while learning about pack behavior and the training of sled dogs. This is followed by instructions on driving techniques as well as safety while steering the sled or ATV.
We will then introduce you to your team of 3 to 4 dogs and harness them. Provided with our expertise, you will learn how to drive your team of dogs during a 30-minute tour. We will assist you while turning corners and, if the dogs need help going uphill, with the pedaling technique.
The tour takes us from the grounds of the farm directly into the Frankendorfer forest, via forest and field trails, on which beginners can safely steer their team. At our resting places, where we provide the dogs with water, you can also look around the wide landscape. Not infrequently, deer and deer cross our route.
Returning to the Husky farm, the dogs will be praised watered and you will be shown how to correctly unharness them. After an extensive cuddling session, we will bring the dogs into the kennels. After they have settled down in their favorite spots you will start your way home with a variety of impressions from this eventful day.
Conclusion of many guests after the tour: Here one experiences nature, silence and animals very intensively and away from everyday life!
Mushing course "Hälla" – details
Duration: 2,5 hours
Group size: max. 4 participants, 14 years and up
Dates: all year except February (June, July and August upon request)
Activities: 30-minute tour through surrounding woods, participant's own team of 3 to 4 Huskies, participant steers himself from the start
Conditions - normal mobility, suitable for beginners
Accompanying person - participates in the course except the tour itself. There is a common room available with reading and film material. A maximum of 2 people is bookable online, additions upon request and availability.
Recommended clothing - weatherproof outdoor clothing (rain jacket/pants if necessary), trekking shoes or similar, full-fingered gloves, headgear
It is possible to buy or rent rain gear / rubber boots on site.
Equipment - we will provide participants with helmets for the tour. You can bring your own bicycle/climbing/snowboard helmets if you want.
from € 178.-
Good to know
PREISE

Teilnehmer ab 12 Jahre 178 €
Begleitpersonen ab 12 Jahre 25 €

HINWEIS

Für minderjährige Begleitpersonen, die ohne eine erwachsene Begleitperson gebucht wurden, übernehmen wir keine Aufsicht.
Ort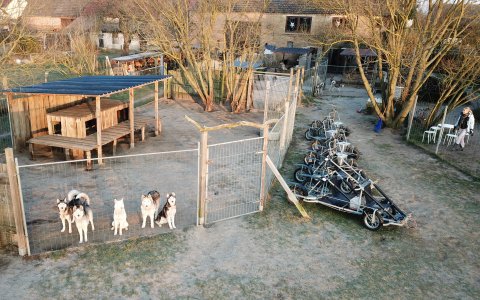 Freizeit- und Tourismusservice Sabine Kühn & Elmar Fust
Freizeit- und Tourismusservice Sabine Kühn & Elmar Fust
Neudorf 34
16818 Storbeck-Frankendorf
Our husky farm is certified by the ServiceQualität Deutschland initiative
Companies that have taken part in this certification and bear the Q have dealt intensively with the issues of service and quality and are working on continuous improvement. This is what the Q stands for - a sign for you as our guests that the people in this company are interested in your satisfaction and are doing something for you!