Hiking with Siberian Huskies
Husky light hike for Advent – for groups of up to 12 participants / one dog per hiker
Surprise your team at the end of the year with adventurous husky howling, atmospheric candlelight and the scent of warm apple punch! Our light walk combines outdoor fun with Christmas market flair! (larger groups on request)
We found the idea for this experience in the tradition of the Swedish Lucia Festival – it is supposed to bring joy and brightness to the dark days of the year that is coming to an end. So this tour is (almost) all about the light.

The husk hikers are equipped with a headlamp by us. Each participant leads his own husky on this tour. Our light procession takes us through the wintery Frankendorfer Forest. After the start into the evening twilight, the first one will turn on his lamp, the breaking darkness creates excitement for hikers and dogs alike! Drawn by "their" husky, the participants can enjoy the winter landscape of the evening and enjoy the unique atmosphere.
On the way back, the husky farm is illuminated by many lights: Torches point the way to the lovingly decorated farm garden, where you can enjoy soothing hot apple punch in the company of the huskies right next to the dog pen. The seating areas for the end are covered with sunshade, here relaxed conversations and a little husky howl in the background round off the experience.
TIP:

This experience is perfect for a company Christmas party with family members, as you can see in our picture gallery at the bottom of this page.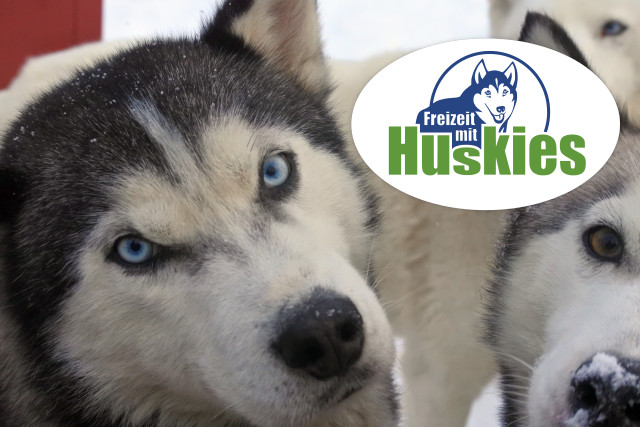 from € 384.-
Next events
Fri, 01. Dec 23

15:00 bis 17:00 Uhr

Wed, 06. Dec 23

15:00 bis 17:00 Uhr

Thu, 07. Dec 23

15:00 bis 17:00 Uhr

Wed, 13. Dec 23

15:00 bis 17:00 Uhr

Thu, 14. Dec 23

15:00 bis 17:00 Uhr
Dieses Erlebnis kann auch als Gutschein erworben werden!
Good to know
Wandern mit den Huskies:
Mit den trainierten Vierbeinern kommen Sie richtig in Schwung und legen ein sportliches Tempo vor! Sie werden staunen, wie bereitwillig sich die Huskies auf ihren neuen Wanderpartner einlassen, auf Kommandos warten und natürlich auch auf Lob und Streicheleinheiten! Wandern mit Husky bedeutet, intensiven Kontakt zum Tier aufzubauen, etwas Hundesprache zu lernen und dann mit dem Tier für die Zeit der Wanderung ein Team zu werden.
Ort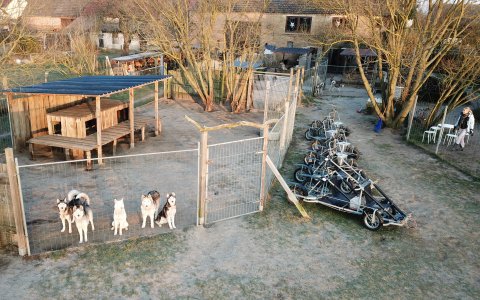 Freizeit- und Tourismusservice Sabine Kühn & Elmar Fust
Freizeit- und Tourismusservice Sabine Kühn & Elmar Fust
Neudorf 34
16818 Storbeck-Frankendorf
Our husky farm is certified by the ServiceQualität Deutschland initiative
Companies that have taken part in this certification and bear the Q have dealt intensively with the issues of service and quality and are working on continuous improvement. This is what the Q stands for - a sign for you as our guests that the people in this company are interested in your satisfaction and are doing something for you!