Exceptional overnight stays
Huskyfarm completely private!
An experience that couldn't be more individual: Enjoy the closity of the Frankendorfer Huskyrudel in a private circle and spend the night a little like in the land of the elks!
When the musher family has said goodbye to their day guests, the hustle and bustle gives way to the evening calm and the huskies are happy in their favorite places, then the doors of the farm open for you and your family or friends. The farm garden becomes a natural "wellness oasis" where you can spend a night: close to forest and corridor, in a cozy hut with barbecue area and Scandinavian barrel sauna and under the interested eyes of more than 50 blue and brown husky eyes.
What can you expect at the husky night? You arrive between 16:00 and 17:00 and are greeted at the farm by Elmar Fust and Sabine Kühn. Immediately afterwards you move into your home for your husky night – a hut directly at the husky enclosure, behind which is a lovingly restored and comfortably furnished construction car with two separate rooms.
Elmar Fust and Sabine Kühn will be happy to answer any questions about husky during your stay. Look forward to exclusive insights into the everyday life of a husky pack and learn all sorts of things about the history, attitude and employment opportunities of these fascinating dogs. If you are also interested in intensive contact with husky, you can also register on site for a 45-minute guided tour with admission to one of the 4 dog enclosures (extra charge) and then go on an exciting tour through the world of sled dogs together with Elmar Fust!
Enjoy the end of the day away from everyday life and look forward to the "program" that the husky pack offers for spectators almost every evening – the pre-sunset playtime together. Both young and old huskies enjoy it. Then they fervently dance in the enclosures, curl, playfully attacked, plucked ears and tails and wrestled with each other. And this almost silently and in the best mood. It is a great pleasure to observe the animals and surely one or the other snapshot of this special situation succeeds. The farm garden offers seating under umbrellas, but also directly from the caravan you have a good view of the enclosure.
You can also order a dinner in the garden fresh from our courtyard kitchen on your arrival (extra charge).
A quantum culture is also offered to you at husky night: Depending on the mood and feeling, our choir of about 25 Siberian huskies will surely give you a concert! And the next morning, the huskies are responsible for the acoustic backdrop: They usually welcome the new day between 7:00 a. m. and 7:30 a. m. with exuberant barking and in anticipation of exciting activities.
If you have booked your experience with breakfast, then your laid table awaits you in the garden – of course with a view of the morning pack or in our lovingly furnished breakfast room.
Your check-out is scheduled between 9:00 and 10:00 a.m. and we are sure you will have long lasting emotional impressions in your home luggage.
Huskyfarm completely private! in an overview
Dates: from April to October (winter dates on request), Note: in the experience calendar of this website, free dates are always indicated with "1 place. " This means that the accommodation offer is bookable for 2 persons.
Number of participants: 1 – 2 persons, suitable for children from 12 years accompanied by at least one adult from 18 years, more persons / Extra bed on request
Arrival / Check-out: 4:00 p.m. - 5:00 p.m. / 9:00 a.m. - 10:00 a.m.
Services: Overnight experience exclusively for you in the construction car incl. bed linen, towels and final cleaning, sanitary facilities 40 m away (own shower room and toilet)
Equipment of the construction car: 2 separate heated rooms separated by sliding doors, each room a double bed incl. bed linen and towels, if only one bedroom is needed, the second room can be used as a living room and can also be used in the morning to have a private breakfast.
Sanitary facilities are about 40 m away on the front yard of the farm. There you will find a toilet and a private heated shower room with hot and cold water.
Meals: a continental breakfast (etagere with bread and rolls, with butter, jam, honey and drinks, 4. 90 € per person) and a simple dinner fresh from the farm kitchen and in organic regional quality can be ordered on arrival (possible in advance by telephone e. g. potato soup with sausages, Pasta & homemade pesto, pasta with spinach and feta. . . between 10 and 19 € per serving). In front of the caravan there are wooden benches and tables – here we are happy to set up for you in good weather! Alternatively, our rustic guest room is also available for a meal. In addition, for dinner the nearest inn can be reached by car in 7 minutes, the nearest restaurant in 15 minutes. Here we recommend a short call in advance to reserve seats if necessary. The contact is available after booking.
Services that can be booked:
Transfer from the train station Netzeband – pre-ordered on request and availability: to Huskyfarm Frankendorf (offer valid for trains arriving at 4:12 pm and 4:40 pm) and return the following day (applies to trains departing at 10:12 am and 10:40 am), price: 34 €, payment on site in cash
Husky farm tour with entrance to a dog house – can be ordered on arrival (69 €, payment in cash on arrival, condition: dry weather)
continental breakfast – can be ordered on arrival
Dinner - can be ordered on arrival
Activities such as dog sledding and hiking can be booked online. For most overnight stays we offer either on the day of arrival or on the day of departure. A first orientation for combining overnight stay and activity offers our experience calendar. We will also be happy to advise you on this by phone and look forward to your call!
from € 296.-
Next events
Thu, 09. May 24

16:00 bis 10:00 Uhr
Good to know
PREIS
Huskyfarm ganz privat! - für 2 Personen 296 €

HINWEISE

Dieses Erlebnis ist nicht als Gutschein erhältlich.

1. Hinweise zum Kauf eines Erlebnisses mit festem Termin:

Wir empfehlen Ihnen für bestellte Tickets einen Ticket-Schutz abzuschließen. Informationen dazu erhalten Sie hier: https://www.hansemerkur.de/event-versicherungen/ticketversicherung

Ort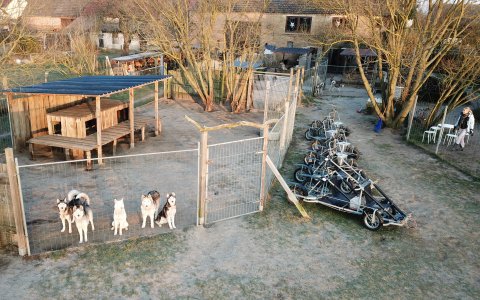 Freizeit- und Tourismusservice Sabine Kühn & Elmar Fust
Freizeit- und Tourismusservice Sabine Kühn & Elmar Fust
Neudorf 34
16818 Storbeck-Frankendorf
Our husky farm is certified by the ServiceQualität Deutschland initiative
Companies that have taken part in this certification and bear the Q have dealt intensively with the issues of service and quality and are working on continuous improvement. This is what the Q stands for - a sign for you as our guests that the people in this company are interested in your satisfaction and are doing something for you!