Corporate events
Incentive experience * * * * Husky hike + enclosure – for groups of up to 12 participants / one dog per hiker
An exclusive husky hike for small teams that spans the arc from a time out together to a small adventure trip into the world of sled dogs. (larger groups on request)
The arriving guests of each tour are watched attentively by the more than 20 Huskies.

After the "small overview about the world of sled dogs" – an introduction to the subject directly at the dog enclosure – the Huskies are released into the freewheel and together with the participants, the right four-legged hiking partner is chosen for each participant. Expectant howl accompanies the start of the tour from now on!
Which place do the huskies take us today: to the Bergsoll, the Blind Donkey, or to the egg soup? Depending on the time of year and weather conditions, we choose the day's goal. After the stops of the route we take a tour break. If you like, you can have a snack you brought with you or just enjoy the silence – because that is also part of a husky land game.
At the end of the active part, the participants go once again close with the Huskies and are allowed to enter the enclosure of the animals. Here in the "good room" of the pack, a particularly calm and restrained approach is required by the "Visitors. " Let the dogs come up to you to cuddle and be amazed at what choice the cuddly animals make!

During the subsequent exchange of experiences, we let the experience come to an end together.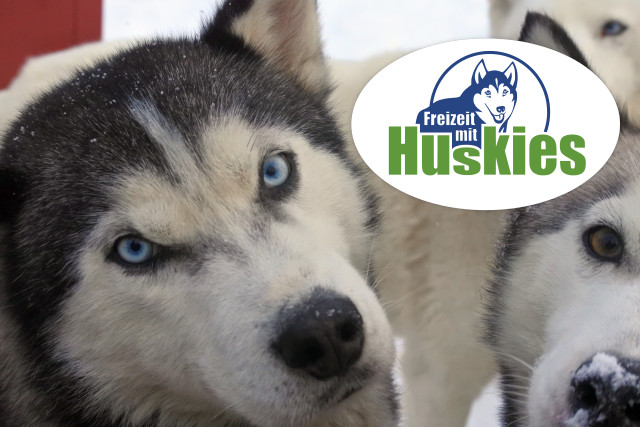 from € 588.-
Dieses Erlebnis kann auch als Gutschein erworben werden!
Good to know
Wandern mit den Huskies:
Mit den trainierten Vierbeinern kommen Sie richtig in Schwung und legen ein sportliches Tempo vor! Sie werden staunen, wie bereitwillig sich die Huskies auf ihren neuen Wanderpartner einlassen, auf Kommandos warten und natürlich auch auf Lob und Streicheleinheiten! Wandern mit Husky bedeutet, intensiven Kontakt zum Tier aufzubauen, etwas Hundesprache zu lernen und dann mit dem Tier für die Zeit der Wanderung ein Team zu werden.
Ort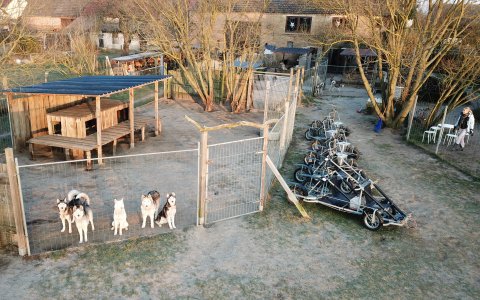 Freizeit- und Tourismusservice Sabine Kühn & Elmar Fust
Freizeit- und Tourismusservice Sabine Kühn & Elmar Fust
Neudorf 34
16818 Storbeck-Frankendorf
Our husky farm is certified by the ServiceQualität Deutschland initiative
Companies that have taken part in this certification and bear the Q have dealt intensively with the issues of service and quality and are working on continuous improvement. This is what the Q stands for - a sign for you as our guests that the people in this company are interested in your satisfaction and are doing something for you!