Experiences for groups of children and young people
Hiking day with the Husky pack! - from grade 6
Hiking day? Oh, yes! It combines adventure and nature experience with a strong group feeling and real challenges – and 100 paws of Huskies are eagerly waiting to go on the tour with you! (3. 5 hours programme)
For this hiking day each participant is equipped with a hiking harness and receives an instruction in the hiking technique. Then the hiking teams are formed: 2 participants each lead a powerful husky together.
Then the dogs will also receive your preparation for the tour: they will receive their harnesses and each one a bowl with "feed-broth" as a liquid reserve for the first part of the hike. This is exciting for the participants to experience, because the enthusiasm of the 25 – 30 dogs is as great as with a proper feeding!
Depending on the season and weather conditions, we will hike with the huskies the secret places of the woods around the husky farm. Which destination do the huskies lead us to today: to the Bergsoll, the Blind Donkey or to egg soup? Leave Surprise you and look forward to an eventful tour in lovely and sporty husky accompaniment!
During the foray we use the wide distances for a guide dog training: Various commands, changes of tempo and direction, overtaking maneuvers are practiced – basics that a sled dog should master, so that the sled dog handler can safely steer his team.
After their return, the dogs are praised, harnessed and provided with water. The four-legged hiking partners are now available for photos and pamps.
from € 340.-
Good to know
PREISE

Gruppe bis 10 Teilnehmer 340 €
jeder weitere Teilnehmer (Jug. oder Erw.) je 34 €
Ort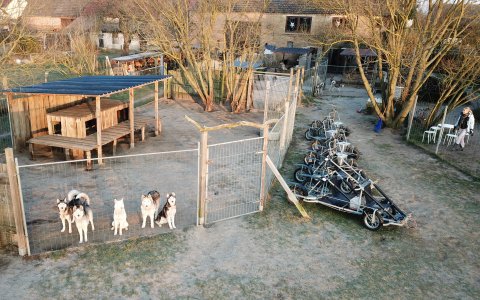 Freizeit- und Tourismusservice Sabine Kühn & Elmar Fust
Freizeit- und Tourismusservice Sabine Kühn & Elmar Fust
Neudorf 34
16818 Storbeck-Frankendorf
Our husky farm is certified by the ServiceQualität Deutschland initiative
Companies that have taken part in this certification and bear the Q have dealt intensively with the issues of service and quality and are working on continuous improvement. This is what the Q stands for - a sign for you as our guests that the people in this company are interested in your satisfaction and are doing something for you!