Experiences for groups of children and young people
Day Trip " School class meets Husky pack" – from grade 4
Dive into the world of the Huskies together, go on tour and feel the skin with the four-legged friends. A class trip that excites everyone: boys, girls and teachers! (2 hours program)
A forest hike with the lively four-legged dogs awaits you. But not a hike, as you might know it, and not a normal walk. You get a belly belt strapped and let the two of you pull by a powerful husky. You will be given the orders to steer the Siberian huskies in the right direction on the hiking trail and then you will start with one of our tour guides!
Our dogs are kept in a large pack. Sometimes it's like in a classroom. We will tell you a lot about the sled dogs and the breed beforehand. But you will also experience a lot of this on the hike. In addition, we will explain how we train the dogs and what is so special about keeping the animals in a big pack.
Of course, the dog stroking is also not neglected. After the hike, the animals may be rewarded with petting.
Bookable module of 1 hour for minigroups up to 8 participants
This program can be extended with a special activity: training on the Agility-Parcours. Here each participant guides "his" husky over hurdles, seesaw, bridge. . . , possibly supported by an animal keeper. Through the exercises both partners – child and dog – learn a few things: the dog practises listening, observing the partner human and paying attention to its signals. The child, in turn, gets to know "his" husky from a new side and will be able to understand the body language of his dog better and better. In this way, child-dog communication is practiced and mutual trust strengthened. (Additional cost: 105 €).
Arrival and departure by bus:
With the module you can book, you will receive an event that fits the schedule – at least during the school weeks – of the bus timetable of the Neuruppin – Frankendorf section. Further information directly from Ostprignitz-Ruppiner-Personennahverkehrsgesellschaft mbH.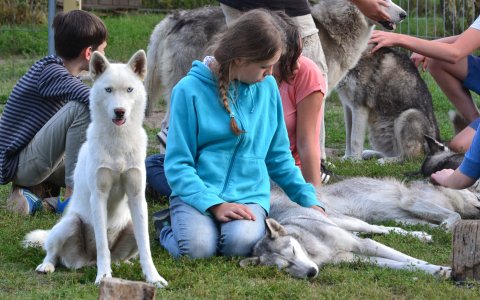 from € 230.-
Next events
Thu, 22. Jun 23

10:00 bis 12:00 Uhr
Good to know
PREISE

Gruppe bis 10 Teilnehmer 230 €
jeder weitere Teilnehmer (Jug. oder Erw.) je 23 €
Ort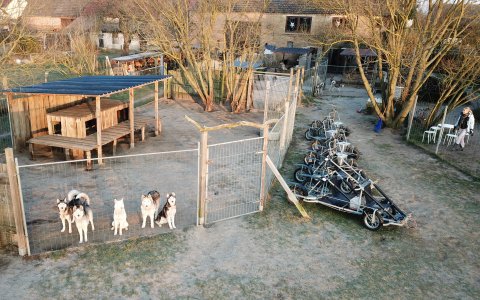 Freizeit- und Tourismusservice Sabine Kühn & Elmar Fust
Freizeit- und Tourismusservice Sabine Kühn & Elmar Fust
Neudorf 34
16818 Storbeck-Frankendorf
Our husky farm is certified by the ServiceQualität Deutschland initiative
Companies that have taken part in this certification and bear the Q have dealt intensively with the issues of service and quality and are working on continuous improvement. This is what the Q stands for - a sign for you as our guests that the people in this company are interested in your satisfaction and are doing something for you!