Hiking with Siberian Huskies
Hike of Lights on Advent
Husky howling, candlelight and the smell of warm apple punch - the hike of lights combines outdoor fun and the feeling of christmas markets!
We got the idea for this event from the Swedish tradition of the Lucia festival – which brings happiness and light into the darker days of the ending year. So, this tour is (almost) all about lights.
All Husky hikers will be provided with a headlamp. On this tour, two participants will lead one dog together and our procession of lights will lead us through the wintery forests of Frankendorf. We start by heading into dusk and soon the first one will switch on his lamp, and nightfall creates suspense for hikers and Huskies alike! Pulled by "your" Husky, participants can take in the winter scenery around them and enjoy the extraordinary atmosphere.
On our return, the Husky farm is adorned by lights: torches show the way to the lovingly decorated farmgarten, where in the company of the huskies you can enjoy soothing hot apple punch. The seating areas for the end are covered with sunshade, here relaxing conversations and maybe a little howling in the background, will bring this event to a delicious end.
Hike of Lights - details
Duration – 2 hours
Group size – about 20 participants, 5 years and up
Dates – Saturdays and Sundays on Advent weekends, and between Christmas and New Year
Activities - ca. 4 km hiking tour, 2 participants per dog
Conditions – normal mobility
Recommended clothing - weatherproof outdoor clothing (rain jacket/pants if necessary), trekking shoes or similar, full-fingered gloves, headgear
It is possible to buy or rent rain gear / rubber boots on site.
Provisions – hot apple punch without alcohol
Children 4 years and younger accompanying in our buggy – not bookable for this tour
Information when booking online: Children are listed as accompanying persons due to booking reasons, they will fully participate in the event
from € 46.-
Next events
Sat, 28. May 22

14:00 bis 16:00 Uhr

Sun, 27. Nov 22

15:00 bis 17:00 Uhr

Sat, 03. Dec 22

15:00 bis 17:00 Uhr

Sun, 04. Dec 22

15:00 bis 17:00 Uhr

Fri, 09. Dec 22

14:00 bis 16:00 Uhr
Good to know
PREISE

Teilnehmer ab 18 Jahre 46 €
Teilnehmer 13 - 17 Jahre 36 €
Teilnehmer 9 - 12 Jahre 36 €
Teilnehmer 5 - 8 Jahre 36 €

HINWEISE

* COVID-19: ab dem 03.12.21 alle Veranstaltungen nur unter 2G-Bedingungen

* Je 2 Teilnehmer führen einen Husky gemeinsam.
* Die Teilnahme von Kleinkindern (0 - 4 J.) und Begleitpersonen (Zuschauern oder Wanderern ohne Husky) ist bei diesem Erlebnis nicht möglich.
* Dieses Erlebnis ist nicht als Gutschein buchbar.
Ort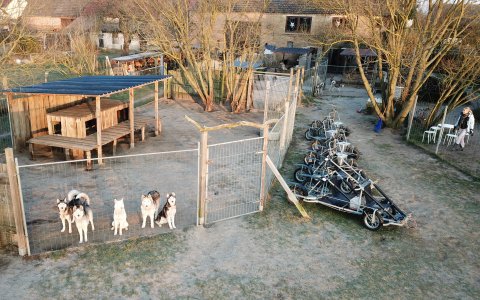 Freizeit- und Tourismusservice Sabine Kühn & Elmar Fust
Freizeit- und Tourismusservice Sabine Kühn & Elmar Fust
Neudorf 34
16818 Storbeck-Frankendorf
Our husky farm is certified by the ServiceQualität Deutschland initiative
Companies that have taken part in this certification and bear the Q have dealt intensively with the issues of service and quality and are working on continuous improvement. This is what the Q stands for - a sign for you as our guests that the people in this company are interested in your satisfaction and are doing something for you!